Collarts – Courses in the Creative Industries
Learn about our range of courses, exclusive industry opportunities and why Collarts is the place for you.
WEBINAR TIME – 1:30pm
PLATFORM – ZOOM
WATCH THE VIDEO BELOW TO FIND OUT MORE:
More Information:
Bachelor Degrees and Diplomas in the Creative Arts, Entertainment & Design Industries.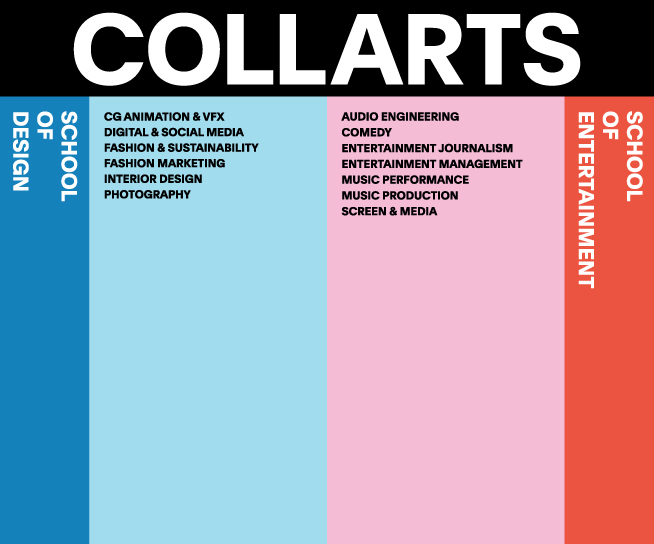 Collarts is a dynamic independent tertiary college full of passion, individuality and opportunity. Focused on creating real career pathways into the creative sector for students, Collarts offers a hands-on, collaborative approach to learning and strives to support those who want success in the creative and entertainment industries, both nationally and internationally.
Over our 30-year history, Collarts has gained a reputation for delivering high-quality tertiary education, with a distinct ability to always be at the forefront of contemporary culture. Our commitment to industry connection, agility and cultural relevance makes it a popular choice for students wanting the best start to a real career in the creative industries.

Throughout their education, students are given opportunities to gain work experience at music festivals, entertainment venues, recording facilities, radio stations, and with brands and organisations at the forefront of contemporary culture. As part of each degree, students also undertake a comprehensive work placement.
We offer Bachelor Degree and Diploma level courses in:
Animation & VFX
Audio Engineering
Digital & Social Media
Dramatic Arts (Comedy)
Entertainment Journalism
Entertainment Management
Fashion Marketing
Fashion & Sustainability
Interior Design
Music Performance
Music Production
Photography
Screen & Media